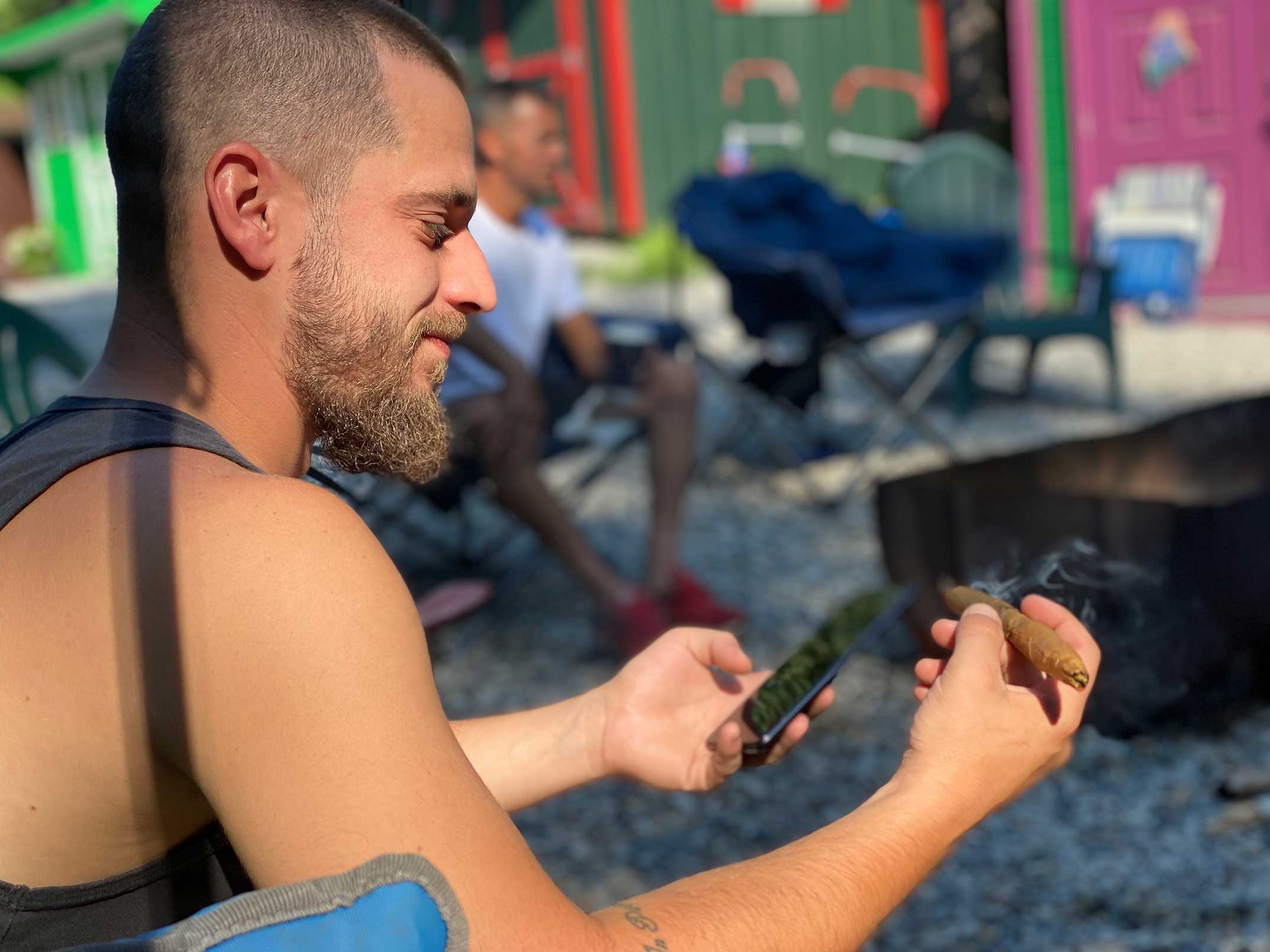 Cannabis Friendly 21 and Over Campground
Welcome to Camp Laughing Grass
Cannabis Friendly 21 and Over Campground
Opening day May 20th
Public booking begins March 15th at 9 AM EST
Camp Laughing Grass Campground offers a relaxing Cannabis Friendly retreat in the tranquil settings of Maine's Lake Region. Tucked into a private 17-acre riverfront forest, bordered by beautiful scenic wetlands with trails throughout. Minutes from Naples & Bridgton, our 21 and over campground is the ideal summer vacation destination. With an array of thoughtful amenities, fun activities, spacious grounds, and tent sites right on the Crooked River, this is camping!

At Camp Laughing Grass you'll create lifelong memories and truly enjoy "the Maine camping experience".


Hiking and Biking trails are also on site. Kayaks and Canoe available. First come, first served.
All of our sites have a two (2) night minimum. Melissa
September 19, 2021.
Beautiful oasis tucked into the woods. Theresa
September 17, 2021.
Trinity is a wonderful host and will make everyone feel at home:) Lori-An
September 10, 2021.
HIGHLY !! Recommend . Trinity and Josh are good people . It is such a chilled place to just hang out or you can go kayaking , canoeing. Met some really cool people of all ages
Jennifer
September 6, 2021.
Once you visit Camp Laughing Grass, you will wondered what took you so long to get there! It is an oasis in the woods. The cabins are magical and the mattresses are so comfy! Be sure to bring your own blanket because the AC does work great! The bathrooms are always impeccable as long with the overall grounds. The river on the property is fantastic for relaxing, swimming, and kayaking! At night, the communal fire pit up by the cabins comes alive with laughter and hospitality as Trinity hosts a 5-star 4:20 happy hour. A little hint, get there a little before 4 for some great stuff! Trinity and her partner Josh are welcoming, gracious and kind hosts. This was my second stay there this summer, and I guarantee you I will be back next season! Amazing vacation!!!
I heard many good things about Trinity & Camp Laughing Grass and I was very excited for my solo retreat. My experience was above and beyond anything I could have expected! The entire staff was excellent, very welcoming and went the extra mile to make sure guests were comfortable. I was worried about ticks and mosquitos, but there were absolutely none, even by the river!!! The pastries and coffee were delicious, and it was very nice to meet the other guests in the mornings. Overall, this was one of the best vacations I've ever had and I can't wait to return next year! If you want a great experience in the Maine woods come to Camp Laughing Grass.
Diana
September 22, 2020.
It was great! Cute place and we felt so at ease the whole time!
Christina
September 20, 2020.
Awesome place to stay.
Jennifer
September 8, 2020.
This place was magical better than I could ever imagine from the gourmet food to the adorable accommodations the whole experience two very enthusiastic stoner thumbs up 👍🏻👍🏻
great realxing weekend...food plan was awesome..and great time once again
Your Own Private Cannabis Getaway
Automatic Discounts for 4 and 7-night stays
A Friend with Weed is a Friend Indeed
Happy Hour Gathering starting @ 4:20 PM takes place in the Pavilion